VeryDOC PDF to Text Converter can be used to convert PDF to text and remain layout. When converting table PDF file to text, it also can keep the layout and format even if there is no table around the text. This software supports most of the common languages like English, French, German, Italian, Chinese Simplified, Chinese Traditional, Czech, Danish, Dutch, Japanese, Korean, Norwegian, Polish, Portuguese, Russian, Spanish, Swedish, Thai, etc. But if there is something wrong in the setting part, the conversion may fail. In the following part, I will show you how to use this software.
Step 1. Install PDF to Text Converter
This software either can be used as command line version or GUI version, but you need to install the GUI version then you can use the executable file in the installation folder.
The installation is quite simply, once the downloading finishes, please double click the exe file and follow installation message. Once the installation finishes, there will be an icon on the desktop. Simply click the icon then you can launch this software.
Step 2. Launch software and do the setting part
The following snapshot is from the software interface, which will be helpful to understand the usage of this software. Please click Menu option then you will see the dropdown menu list like I showed in the following snapshot.
Please choose Set More Option in the dropdown list then you will see menu option like I showed in the following snapshot. Please make sure choose the options:insert page breakers and output text file in unicode format. And then click button OK to back to the main interface. When converting password protected PDF to text, please input the password in Password Setting part. And when you need to specify the conversion page range, please specify in Page Range part.
There are many options listed in the dropdown list, please choose them according to your needs. And once you choose that option, there will one cross before it.
When you finish setting part, simply drag PDF files needed converting to software interface then there will be dialogue box reminding you to save the output text file. Finish this step then the output text file will be showed in the specified output folder. Now let us check the conversion effect from the following snapshot. Judging from the following snapshot,we can tell that the layout and format can be kept well in the output text file.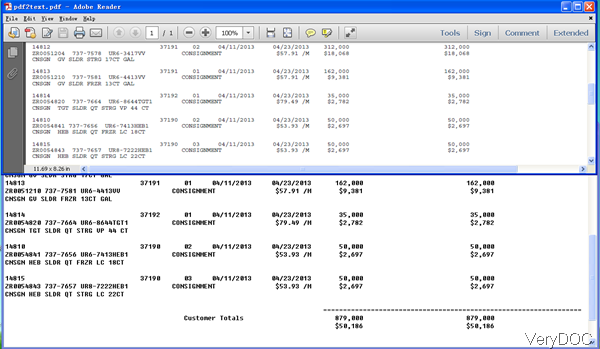 By this software, you can convert PDF to text easily and accurately. During the using, if you have any question, please contact us as soon as possible.
Convert table PDF to text remaining layout

,
Related Posts