Please keep reading this article if you want to know how to convert encrypted PDF to TXT/HTML and auto add spaces into TXT with VeryPDF PDF to TXT Converter.
First of all, please download installer of this software of trial version from following icon:

And then, please double-click this installer and install trial version software step by step in your computer for later process. 🙂
After installation, it's time to use this tool by yourself to accomplish conversion from encrypted PDF file to TXT/HTML with auto-added spaces through following steps:
Step1. Open software and get prepared work of setting properties done
Please double-click shortcut on your screen, then its GUI interface could be opened on screen, and then, you need to do followings:
Click Menu on GUI interface
Select on dropdown menu to auto-add spaces into text file later
To get encrypted PDF converted later, please type open password and owner password in relative edit-boxes of pop panel and click OK, after you select on pop list above
Here are relevant snapshots for you to refer to below: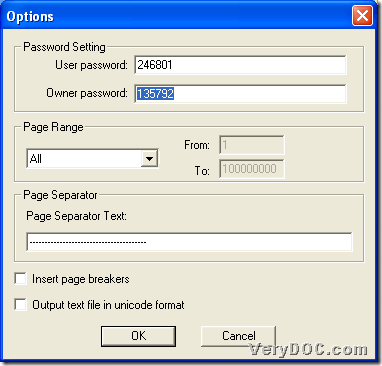 After you finish setting like mentioned above, it is complete to do prepared work.
Step2. Add encrypted PDF file for conversion
After preparation work is done, please drag and drop that encrypted PDF file into GUI interface directly so that it could be added for process.
Step3. Convert encrypted PDF file to TXT/HTML with auto-added spaces
After adding, program will offer you a dialog box for you to set targeting folder, and then, please click Save there, thus, later on, your TXT file/HTML file with added space can be produced into targeting folder.
This is the end of this article, and before I say farewell to you, please allow me to bring you full version of VeryPDF PDF to TXT Converter, which allows you to get no watermark file from conversion of PDF file to TXT/HTML, if you need it right now, just click following icon directly:
Related Posts