You can convert PDF  into many pages or single page SWF files as you wish. With the help of VeryDOC PDF, it is as easy as reading ABC.  With this one tool in hand, others can be saved.
First click
  and input cmd as the screenshot shows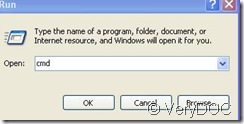 . The following is inputting the formula
as this picture shows. The formula is made up of four units. ( a.
  b.-swfburst c.the PHD file you want to be burst  d. your aim SWF files  In this step,do not forget to change the file name to swf. Kindly reminder: Please hit SPACE BAR  between each unit.
Related Posts