Generally, format conversion need an additional software's support except the appropriate conversion software.
For example, pdf format file need a certain software's support to read, such as Adobe Reader otherwise there is some mistake in the opening, that is you can't look up the content in the pdf file. As to rtf, many reader software support it even a new computer with its default, thus it spares trouble for installing a specific reader to open rtf file, but it doesn't mean we can convert rtf to pdf easily alike by any converting software, some of them still need install another reader software to support the conversion such as MS word software, perhaps the reason is the converting software only recognize MS word in the course of the conversion, as far as I know converting rtf to pdf without MS word installed is "DOC to any converter" software.
The process of operation of rtf to pdf is very easy when DOC to Any converter has been installed, next is the detail:
First: open a DOS window
Secondly: in the converting software's folder find out the executive file and rtf file, in turn drag their icons into DOS window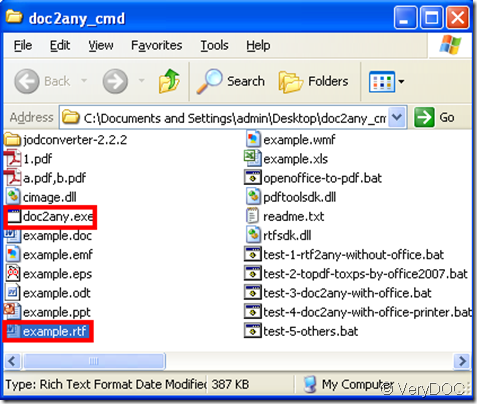 the turn is "doc2any.exe"first, "example.rtf"second
Thirdly: drag the rtf file into DOS window again with a little alteration that replace rtf with pdf, then press "Enter"key , it's finished.
pay attention to the red rectangle
this is the result after press "Enter"key
the pdf file comes out
The downloading address is www.verydoc.com/doc2any_cmd.zip
Related Posts