Yes, the VeryDOC PDF to Word Converter supports Korea characters. Maybe you are not too familiar with software. Please allow me to say one word or two about the function about it. It will be helpful for your future use. The more you know, the more advantageous you will feel.


NO Text Boxes around text. Simply Free Flow text for smooth editing;


Support selected pages conversion;


Support Page ranges (all, from to, individual pages);


Convert PDF documents to word formats, Fast, Accurate, Free Trial;


Batch conversion of multiple PDF documents to word files;


Support English, French, German, Italian and other languages;


Retain original page layout;


Do NOT need Adobe Acrobat or free Acrobat Reader software;


Support all Windows platforms, Win9x/ME/NT/2000/XP/2003;


Support conversion from encrypted PDF files and password protected documents;


Support drag and drop of files;


Convert entire document or only a specific page range;


Free upgrade in the future for registered users;


Convert PDF files into Microsoft Word and RTF formats;


Converted files can be automatically loaded immediately after conversion complete;


Create full layout Word document and text only Word document;


Convert user password and owner password protected PDF files to Word documents directly;
Not only it supports Korea characters but also it nearly supports all the languages. In another word, this is software is a file form converter. It doesn't have the language barrier. But i have one thing need to be mentioned. It does have messy code once in a while after converted. But the problem not lie in the software but the word version. Now I can show you by example.
If you do not how to get and run this software, please refer to this website. https://www.verydoc.com/blog/is-your-pdf-to-word-converter-support-arabic-and-cyrillic-characters-if-yes-please-show-me-an-example-if-not-please-show-me-an-example-too.html
I downloaded a pdf file in Korea and converted by VeryDOC PDF to Word Converter.Then I get the word document in Korea . Please have a check and compare them, you will know it can make convertion easily and accurately.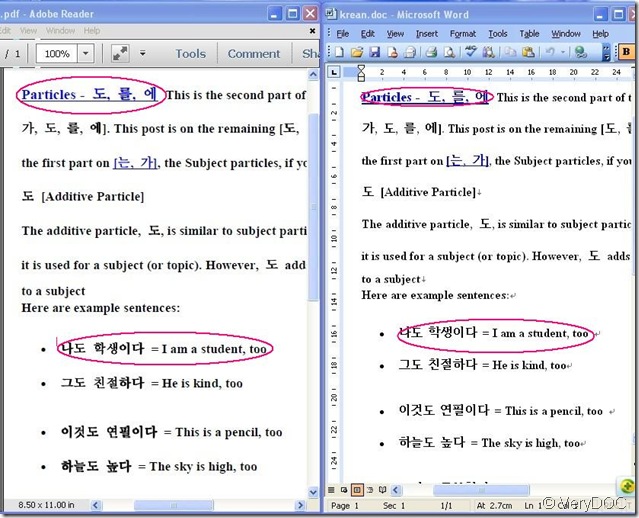 The link to get this software and know more about it here. https://www.verydoc.com/pdf-to-word.html
Random Posts