As it is known to all that PDF file can not be edited. But the more difficult to reuse, maybe the more important it is.  We know that a PDF file may be encrypted for security, or digitally signed for authentication.  PDF files look like original documents and preserve source file information — text, drawings, multimedia, video, maps, full-color graphics, and even business logic — regardless of the application used to create them and even when compiled from multiple formats into a single PDF Portfolio.So it is very popular in every day use. When we meet some precious information in PDF files, seeing but can not be using  is really a headache. Out of this inconvenience consideration, VeryDOC PDF researched and developed this software.
By VeryDOC PDF to Word Converter you can convert PDF files to many other kinds of files as you needs. Then you can reuse it in your working and study. But you may wonder if i want to put the PDF files in my Excel, PowerPoint, is that ok?  "Yes, of course."VeryDOC PDF  can do more than you think. Now i will show you by pictures.
Now this is a PDF file. I want to use part of it in my Excel.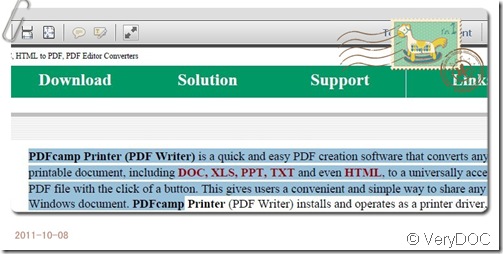 After converting, it will be shown in the word document,Like this.
Now i will put the words in my Excel. Please have a look.
VeryDOC PDF is quite successful in PDF converting, you can trust it. I can use it in the Excel, the same way in the PowerPoint, maybe the content is different but the principle is same. If you can reuse it it in one form file others will be a piece of cake for to handle. I just use it in one way, more wonders you can get it yourself.
In a word, with the help of VeryDOC PDF to Word Converter, you can reuse the PDF files in many other ways.
If you need it here is the link to get it. https://www.verydoc.com/pdf-to-word.html
Related Posts