Please do not hesitate to use VeryPDF Image to PDF Converter to batch convert image(PCD/PSD/TGA/BMP/DCX/PIC/WMF) to combined PDF files in Windows systems. 🙂
VeryPDF Image to PDF Converter supports converting image to PDF with multiple properties, e.g., PDF information, PDF encryption, PDF combination, PDF bookmarks, etc.. For more information about this software, just visit its homepage directly, or just download trial version from below to experience it by yourself, maybe through this process?
Download Entrance for Trial version:
After you get one piece trial software, just do the followings to realize your own process and experience this software, after you know there will be watermarks on produced PDF file:
Step1. Open software to add source image files
Please run software on screen, and on its opened GUI interface, please click File on toolbar > select Add Directory on pop list > select image folders one by one in pop dialog box > click OK, for this application supports various image files converted one time, and also supports drag and drop of adding image files, so you also could add PCD/PSD/TGA/BMP/DCX/PIC/WMF files one times for source image files and add image files quickly. 🙂
Here is snapshot about GUI interface after adding source image files below:
Step2. Set combined mode for PDF file
After adding source folders, please click Setting on GUI interface in order to set combined mode for PDF file:
Click tab Save Mode on pop panel, and then, click radio Convert multiple directories to multiple PDF files so that program knows you need to get added images of folders converted into separate PDF files.
And along with setting combined mode, you may need to set save mode in Save mode:
Click radio Always ask for filename so that program can provide you with dialog box when starting to convert later, for example. Also, you can choose other radios to get another saving mode. And here is snapshot about setting combined mode and saving mode on Setting panel below: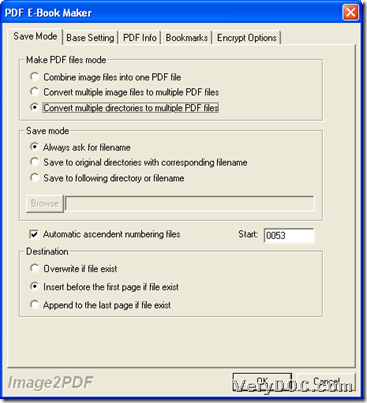 Then, click OK on this panel in order to save settings here directly.
Step3. Batch convert image(PCD/PSD/TGA/BMP/DCX/PIC/WMF) to combined PDF
After setting is finished as above, click Make PDF on GUI interface, and then, in pop list, please select one like what is shown to you from
, and then, another dialog box pops on screen, where please set targeting folder and click ok, and along with processing based on VeryPDF Image to PDF Converter, combined PDF files from each added image folder could be produced into targeting folder directly.
And if you want to know how good produced combined PDF is, here is a screen snapshot example for you to refer to below: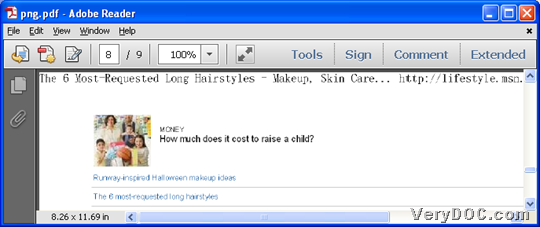 For full version of VeryPDF Image to PDF Converter, welcome to click following icon:
For any questions on how to batch convert image(PCD/PSD/TGA/BMP/DCX/PIC/WMF) to combined PDF files, please drop your comments here. 🙂
How to batch convert image(PCD/PSD/TGA/BMP/DCX/PIC/WMF) to combined PDF files

,
Related Posts