A friend of our website said that "I've been looking at PDF Stamping command line product and I like it very much! However, what product do you recommend if I want to convert a word document into a PDF and also stamp the PDF. Is there one product that performs both of these features or should I consider two separated products. One for conversion and one for stamping?"
VeryDOC has such software which can convert word to pdf and add water mark. It is VeryDOC DOC to Any Converter which can convert DOC, DOCX, DOCM, RTF, TXT, PPT, PPTX, XLS, XLSX, OpenOffice ODT, HTML, MHTML files to PDF, Postscript, PS, EPS, SVG, SWF, XPS, PCL, HPGL, HTML, MHTML, RTF, Text, XML, JPG, TIFF, EMF, WMF, BMP, GIF, PNG, TGA, PCX, etc. formats and allows you to add water mark for the converted files. As to detail operation, please refer to the following steps.
Step 1.Download DOC to Any Converter
All the software on VeryDOC are free to download, you can try many times before pay for it. Here is the link for you: https://www.verydoc.com/doc2any_cmd.zip. This link is only for common command line version, if you need to try the SDK version or server version, you'd better download it from its homepage.
Step 2. Open MS Windows and do as the usage shows.
Usage: DOC2Any [options] <in-file> [<out-file>]
-wtext <string> : Watermark text on printed document
-wtype <int> : type of watermark
0 : normal watermark
1 : watermark on header
2 : watermark on footer
-wf <string> : font name of watermark
-wh <int> : font size of watermark
-wb : specify bold font
-wi : specify an italic font
-wu : specify an underlined font
-ws : specify a strikeout font
-wa <int> : angle of watermark
-wbox <string> : a rectangle to output formatted text, it is only useful for "-walign"
An example from the snapshot.
The conversion from word to pdf and add water mark has been done, now we can check the effect.
Source file.

Converted PDF file.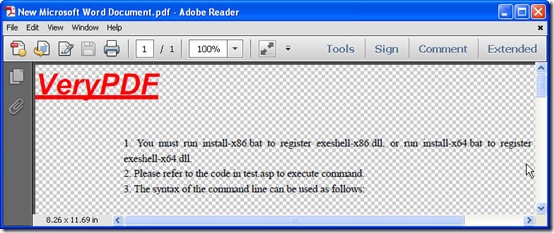 If you have any question about this conversion, please contact us at any time.
Related Posts