You can convert the document of pdf to docx easily with the help of the program VeryDOC PDF to Word Converter. This article aims at showing you how to use the program PDF to Word Converter to make conversion. MS Office is required on your computer if you want to convert pdf to docx.
There are five steps in this article for you to make the conversion shown in the following contents and you just need to follow them one by one until you successfully make the conversion.
1. Download and install PDF to Word Converter
Please click here to download the application and then double click the installer to install it on your computer.
2. Open the program and add PDF file
Please double click the application icon to open PDF to Word Converter and then find out the PDF document that you want to convert. Drag and drop it into the application.
3. Set parameters for target file
If you successfully drag and drop source PDF into PDF to Word Converter, the Preferences window  in which you can set parameters for target file will pop up automatically and you need to set different parameters in it. The detailed function of each option are shown in the user guide of PDF to Word Converter.
4. Save target file
In the popup Save as window, you can set the output directory, name for target file and click Save button for starting to convert pdf to word.
5. Save doc as docx
Open the created doc format file in MS Office program and than click File—Save as to save doc as docx format if you need to convert pdf to docx.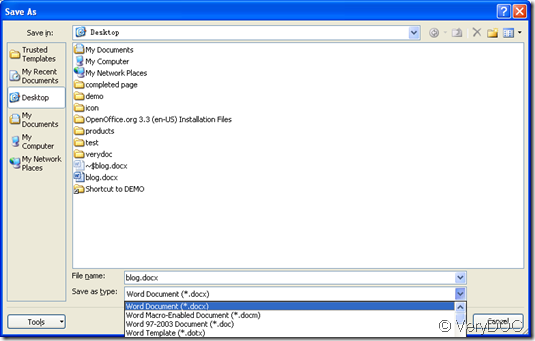 When you click here, you can enter the homepage of PDF to Word Converter to see its detailed function and features. Also, if you need to purchase this application, you can enter the homepage of it.
Related Posts