VeryDOC's PDF to CAD Converter is a software tool that is capable of converting PDF files into DWG and DXF formats. With the help of pdf2cad, you can edit all PDF objects, layers, attributes, and text. This converter is known for setting the standard when it comes to converting PDF, EPS, and AI files into DWG, DXG, and HPGL. You can choose to convert single files or use the batch mode for power conversions.
https://www.verydoc.com/pdf-to-dwg-dxf.html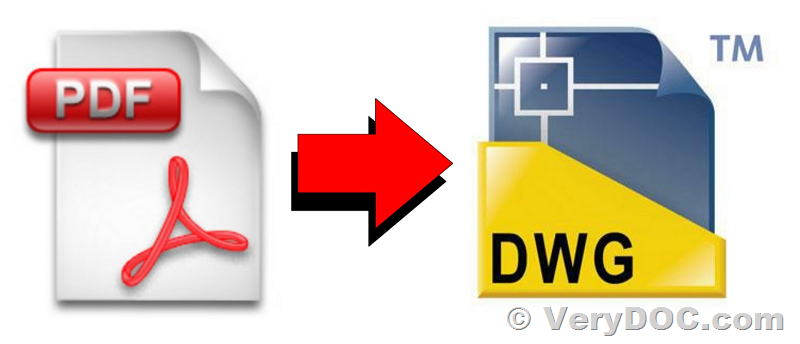 Pdf2cad, also known as VeryDOC's PDF to CAD Converter, has been the top converter for more than 25 years. It can convert PDF files into editable CAD drawings, which saves a lot of time that would otherwise be spent redrawing. You can easily extract accurate DWG, DXF or HPGL drawings in just seconds. Virtually any PDF drawing saved or printed from an application can be converted, and the converted files can be used in engineering, scientific, and architectural programs such as AutoCAD, TurboCAD, and MicroStation.
pdf2cad is ideal for converting CAD drawings, floor-plans, network diagrams, and organization charts. All entities, layers, line-types, objects, and text are ready for editing. However, it is important to note that pdf2cad is not designed to convert scanned PDF drawings (raster PDF) into CAD formats, but rather computer-generated PDF files (vector PDF).
pdf2cad is compatible with Microsoft Windows systems. You can try pdf2cad at ConvertPDF today, or you can send a test file and the team will do the conversion for you. It only takes one file to see whether pdf2cad will save you time and money. Despite having powerful options, it is easy to use. If you want to learn more, you can read about the difference between vector and raster PDF files.
The pdf2cad software boasts a range of advanced features that make it a powerful tool for converting PDF files to CAD formats:
* Compound Grouping: This feature uses advanced logic to group together elements that belong together, making it easier to select, move, copy, and edit these compound objects.
* Advanced Layers: CAD files offer a variety of ways to organize layers. pdf2cad allows you to convert PDFs to layers based on line weight, color, spot color, PDF layers, or no layers at all. You can also create combinations of color and line weight layers.
* Intelligent Text: pdf2cad extracts all searchable text from PDFs and renders it in editable words and text strings. The software automatically maps or substitutes missing or mis-matched fonts to ensure the best display.
* Object Recognition: pdf2cad intuitively reconnects individual elements to form recognizable shapes. A series of arcs, for example, can become an ellipse, while a set of lines can be converted into a polygon.
* CAD Format Options: pdf2cad generates DWG, DXF, and HPGL files, which can be opened by virtually all CAD/CAM and technical drawing programs.
* API & Command Line: pdf2cad's power is also available through the PDF Conversion SDK and Command-Line Server, making it a great option for developers, systems integrators, and OEMs looking to integrate CAD conversion into their software.
ADDITIONAL FEATURES OF PDF2CAD:
* Trusted converter for over 26 years in converting PDF files to standard CAD formats DWG, DXF, and HPGL.
* Batch mode for converting multiple files and processing them simultaneously.
* Supports PDF files of any size without any limitation.
* Compatible with all CAD/CAM systems and technical applications that support DWG, DXF, or HPGL import.
* Scaling based on PDF coordinates ensures accuracy and precision.
* DWG support is independent of AutoCAD, eliminating TrustedDWG errors and performance issues.
* Convert all pages or choose a specific page range for conversion.
* Intelligent object recognition to combine characters to form editable words and lines of text.
* Cropping and adding white space to pages.
* Output rotation by any degree.
* Option to ignore text, images, or paths during conversion.
* Map fonts for high fidelity file matching.
* Scale page to match the original dimensions of the file.
* Specify minimum line width and separate layers in CAD drawings based on PDF layers, color, or other definitions.
* Dashed and dotted lines are converted into segments.
* All images are saved as referenced files in DXF format.
* Developers can access a command-line version and Windows DLL.
* Expanded support for non-standard fonts.
* Option to remove or outline hatches/fills.
* Improved error and warning reporting.
* Streamlined interface for faster and easier conversions.
Related Posts