If you convert your PDF file to word by VeryDOC PDF to Word Converter v2.0, I can promise you that converting PDF files in batch is reachable.
PDF stands for Portable Document Format and it was created by Adobe to make document printing and taking more easily and conveniently. But as PDF file can not be edited, this nature brings a big trouble for intermedia exchange. Such as you can exchange information from word to PowerPoint but you can not exchange information from PDF file to word. If there is a software can convert the PDF files to word in batch, that would be really a trouble shooter for PDF files. VeryDOC PDF to Word Converter v2.0 is such one which can export text, image, table and etc to a newly produced word document. If you add multiple PDF file, it will produce word documents in a time keeping the same quality with the original files.
The detail operation steps as follows:
First of all, downloading VeryDOC PDF to Word Converter here:https://www.verydoc.com/pdf-to-word.html
Please read the PDF to Word Converter Features carefully.
After downloading it successfully, you will enter the interface of this software. Then you can add PDF files as many as you wish. Two ways for you to choose files.a, you can add files by draging: say you put the PDF file on the desktop then simply drag it to the blanks. b,you can add files by clicking "Add PDF File" button: say your PDF file is in a folder belonging to Disk C, you have to open the folder then choose it to add in PDF to Word Converter . Once the blanks are full, you will find the glide bar turn green, you can drag it to endless long to add more PDF files.
Meanwhile if you find adding some PDF file by mistake, you can click that one then "Remove" it. If you want to remove all the files you have added, directly click "Remove All".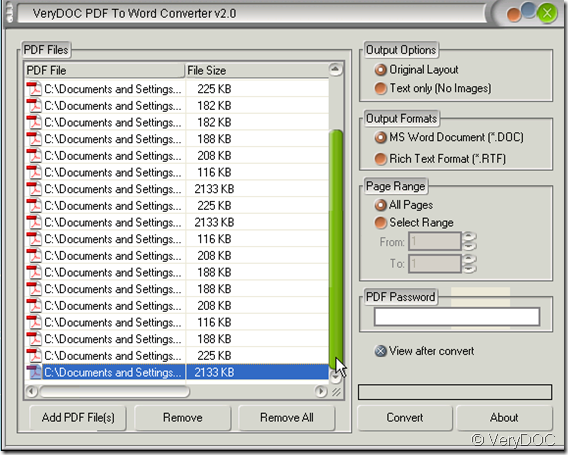 Please choose menu options on the menus boxes as you required for your word document.
If you choose the page range, all the PDF file will be converted from Pn to Pm as you have selected in the menu box. Say you select from P4 to P8, all the PDF file will be converted from P4 to P8.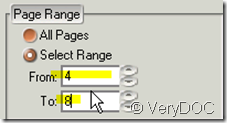 When you convert the PDF file in batch, the "PDF Password" is useless, please let it be.
Now you can "Convert" it. After clicking "Convert", a new dialog box will bounce to the screen. Please choose the folder to save the new word documents. Say if you want to keep the documents on the desktop, please choose it then click "OK" button.
If your source files have more that 100 pages, you have to wait for a few minutes to finish the converting. Then the word files will show up one by one in the open status and are kept in the folder you have chosen.
Random Posts