Yes, you can edit your PDF file by VeryDOC PDF to Word Converter.
It is known to all that PDF files are an accurate representation of a document. PDF files are easy to take and print and they are meant for output or on-screen viewing. They are not intended to be intermediate files that can still be edited. It is unreachable that copying the content form PDF to word or other text formats. If you want to reuse the PDF file content,you need a software which can extract the content of a PDF so that you can insert this data into a new document. Altering PDF files format is a last resort – when your original source file need to be corrected or adding PDF file to your papers and so on so forth.
Edit PDF text for example: In PDF file text is essentially stored as single lines, no text boxes around. No text boxes makes it quite difficult to edit text unless you rely on special tools that somehow manage to intelligently predict how text flows within a document.With PDF to Word Converter,circumstance would be different.
Downloading VeryDOC PDF to Word Converter first.https://www.verydoc.com/pdf-to-word.html The interface is like this. It has broad file blanks then you can convert more files in one time. You do not need to do more puzzled options when you convert. You also can choose the page range, say you have a PDF file having more than 100 pages, but you only need P55, then you can simply choose it and get P55 in a second. If your source file has no password, please let the last option be.
After adding files, the button "Convert" will go black then click it and name the new word document as you wish.You'd better name it the same as source file then you can find it easily in the future. Take a arbitrary PDF file for example.
After clicking the "Convert" button, a new dialog box will bounce. At there, you can name the new word files.
It takes a few seconds to finish the converting.A new word file show up, you can edit the content like the other word files.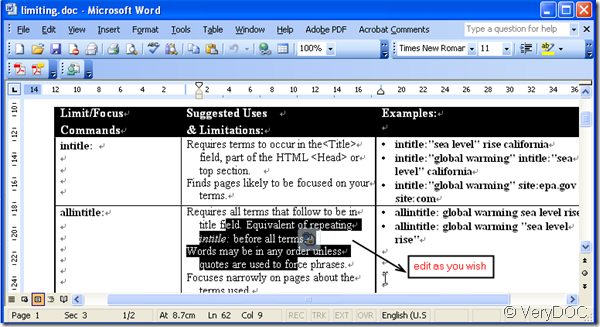 This is the whole process of reusing the PDF file content. If you want to reuse the pictures in PDF file, you can take the same way.
Related Posts