If you convert your PDF file to word by VeryDOC PDF to Word Converter, only converting the text is reachable.
VeryDOC PDF to Word Converter can convert only the text content of PDF files but whether the text could be edited depending on your original document and how it was created.Generally speaking you will be able to edit any converted PDF that was created electronically and published using software, the exception is that your PDF was scanned from a paper document,in this case most converters will consider this to be no different from a photograph, even if the text has been converted but it can not be edited. The aim of converting the PDF file to word is to reuse it, so I point it out here to remind you of this exceptional case.
Now let's see how to keep only text content by VeryDOC PDF to Word Converter?
During the converting process, PDF to Word Converter plays the leading role. Please remember how and where to get it. https://www.verydoc.com/pdf-to-word.html This is the downloading interface link. You also can buy it directly here. https://www.regnow.com/checkout/cart/view
Take PDF file with picture for example. Name this PDF file to "example.pdf". I will get ride if this picture when the new word document generated.
Then add this file to PDF to Word Converter.
See this menu option, once choose it the converted PDF file will discard all the pictures in the new word document. It states its function clearly. This software was customized to satisfy many kinds of requests, you still can choose to keep its original layout. Say you have PDF file which is full of pictures, but you only need the text part then the "Text Only"will play great important role. It will shorten the converting time. Meanwhile it is quite convenient to find the converted part.
Whether the converted PDF file is kept in doc or rtf, you can decide by this menu option.
Choose the converted page rage here.Say you want to convert from P4 to P8, please choose like the picture shows.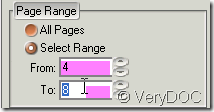 Please do not be nervous for the encrypted PDF files or password protected documents. If you have legal right to see it, please input the password here then it would be converted smoothly.

Last step to finish the converting process. "Convert" it and name the new file then do not forget to save it.
Please see the word file.
Random Posts