FLV to BMP Batch Converter
Would like to convert FLV to BMP in Batch? FLV to BMP Batch Converter is a good helper! FLV to BMP Batch Converter can be used to convert FLV to BMP in Batch. It allows setting the image resolution, quality, and capture interval. There are several supported output image file format such as JPG, BMP, PNG, TGA, etc.
The application FLV to BMP Batch Converter is free to download and evaluate via clicking here. After the free evaluation, you can buy a single-user personal license for obtaining the full function of the application. If you want to use the application for different purposes, you can also purchase different licenses at the website . To get some acquaintance of the application, you can see Figure1 which shows the main window form of FLV to BMP Batch Converter.

Figure 1
There is a file list in the middle used to list all the FLV video files to be converted. Please see the buttons on the left. "Add Video File (s)" is used to add FLV files to the file list from the computer. If you don't want to convert some file, please click "Remove" button to delete it. The button "Remove All" is for deleting all the video files in the list. To click "Options" button, you can get "Option" dialog box which will be introduced in following contents specifically. You can use "Preview Video" button to preview each video file with the own player of FLV to BMP Batch Converter.
Please see "Option" dialog box in Figure 2. In the batch conversion, you can choose to convert a section of FLV to BMP image files by setting the start and end time in "Start (Sec)" and "End (Sec)" spin boxes. If you want to set the resolution of the image, please change the values in "Size (1 to 6000)" spin box. The larger the value in "Quality: (0.01 to 255)" spin box, the better the image quality will be. In "File Format" combo box, you should choose "Bitmap (*.bmp)" as output format. The value in "Interval (Sec)" is used to describe the capture interval of FLV to BMP Batch Converter in the batch conversion. Please click "OK" button to save the changes and close the dialog box.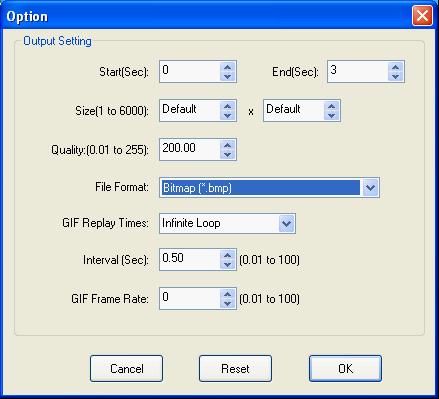 Figure 2
Then you should click "Convert" button in current dialog box to open "Browse for Folder" dialog box in which you can specify a directory for the target files. You can choose an existed one or create a new folder. After clicking on "OK" button, a green progress bar at the bottom of the current dialog box will remind you the conversion progress and it will be empty again when the conversion is over. Please see the result in Figure 3.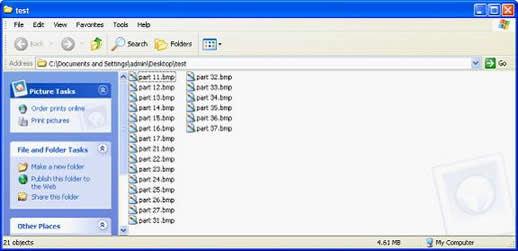 Figure 3
Features of FLV to BMP Batch Converter:
Support Windows 2000 and later systems of both 32bit and 64bit.
Convert Video to images in batch.
Convert Video to Animated GIF.
Convert a part of video to images by setting different starts and ends.
Specify the size of output image files by setting width and height.
Support to set the quality of output images.
Capture the images with different internals when converting video to images.
Input video formats: AVI, FLV, MP4, MOV, WMV, MPG, MKV, etc.
Output image formats: GIF, JPG, PNG, BMP, TGA, PCX, etc.