Raster to PS Vector Converter
Raster image format uses pixels to store an image which will require larger file size when storing a higher definition image. For a limited size raster image, lines and patterns of it will be serrated and pixelated when the image is magnified. Raster to PS Vector Converter is a useful tool for converting raster images to vector images with calculating out the control points and paths.
Raster to PS Vector Converter is a MS-DOS interface oriented application and it is free for downloading and evaluation. You can run it instantly after you unzip the downloaded package in to disk.
For running the application, you have to open MS-DOS command prompt window. Follow these steps [start] [Run] input "cmd" in dialog "Run" press [OK], and you will open a window of MS-DOS command prompt. To directly call the application with its name "Raster2Vector.exe", please change the current path to the one linked to the application.
A basic command line usage of Raster to PS Vector is as follow:
>Raster2Vector.exe raster.JPG vector.ps .
This command line calls "Raster2Vector.exe" and converts raster image "raster.JPG" to vector image file "vector.ps". The following two figures will show the comparison between the raster JPG and vector PS.
The image above is the display effect of the source JPG raster image. You see that the curves are serrated and unsmooth in magnification status.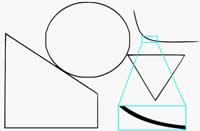 The next figure shows that the curves of converted vector PS image are still smooth and clear.
This application is developed for MS-DOS command interface use, and you can call it with a batch script on a server. Please buy a server license to register your application for running it on your server. If you want to redistribute the application with in your developed software package, please buy a developer license.
Features of PNG to EPS Vector Converter:
Support Microsoft Windows 2000 and later systems of both 32 and 64-bit.
Set printing options – It supports to set the width, height, paper size, resolution and page margin of a converted vector image.
Rotate images – it offers an option to rotate the page of a converted vector image.
Set line color and fill color – it can set the line color and fill color of a converted vector image.
Suppress speckle – It can suppress speckles of the source raster image in the converted vector image.
Inverse color – it can inverse the color of the source image in conversion from raster to vector.
Alternative algorithm – it provides an alternative algorithm for some specific situations in which the default algorithm does not work perfectly.
Multiple source formats – it supports raster image formats of pdf, tiff, gif, png, jpg, tga, pcx, pnm (pbm, pgm, ppm), and bmp.
Multiple target formats – besides ps, it supports converting raster images to eps, pdf, svg, dxf, pgm and emf.