Do you need to email PDF document to your customer, your friend, your boss, etc. automatically after you create PDF document? If you don't know the detailed steps and which kind of program you can take, please read this article and you will get some useful information.
The program that you can use is VeryDOC PDF Printer which is a good application designed for converting any printable documents to PDF file with the operations like a normal printer. When you use PDF Printer to create PDF document, you just need to print the source file to this virtual printer.
PDF Printer supports to email PDF document to others automatically after the creation. Before using PDF Printer, please download the application via clicking here. PDF Printer supplies two versions for you to download—32-bit and 64-bit and you can download any one of them according to your needs.
To email PDF with PDF Printer, please open the document that you want to convert and use hot key Ctrl+ P to open Print window which allows you to choose printer in Printer dropdown list as PDFcamp Printer. Then please click Printer Properties to open printer parameter setup window and click Email tab, like the one shown in Figure 1.
Check the option Sent mail directly through SMTP server and fill in all necessary items like From, To, Cc, Bcc, etc. In Outgoing SMTP Server edit box, you can input the SMTP server that you want to use. Then please click Setting button to open the dialog box like the one shown in Figure 2. Check Authentication Need option and then input the name and password in corresponding edit boxes. Click OK button.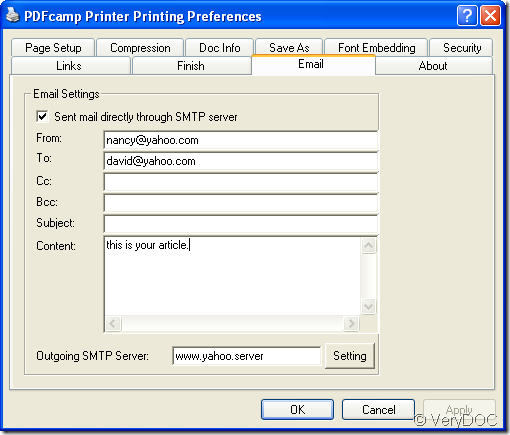 Figure 1
Figure 2
Then please click Save as tab to check the option Email after creation and then click OK button. When the main interface on the screen returns back to the Print window, please click Print button to start to create PDF document and the created PDF document will be automatically sent to the address (es) that you have just filled in.
Figure 3
If you have some other questions about how to email PDF after creation with PDF, you can leave your words here or you can contact our support team. If you have some good ideas or opinions about PDF Printer, welcome to bring up. Want to get more information about PDF Printer, please enter its homepage.
Related Posts