VeryDOC PDF Printer is a virtual printer which has the function to create PDF document from any kinds of printable files like MS Office Word, Excel, PowerPoint, etc., TXT, RTF, HTML, OpenOffice, AutoCAD, etc. It is able to set PDF page size, orientation, secure PDF document, email created PDF, compress PDF, edit PDF description, etc. Actually, PDF Printer is also able to activate other program when the PDF creation is over.
This article will aim at showing you how to activate other program when you create PDF file. The operations are easy enough and you can follow the steps below to fulfill the work. Before using the application, please download it via clicking this link and install it on your computer.
Please click Start—Printers and Faxes to open the window which contains all installed printers and faxes of your computer. Then right click PDFcamp Printer and choose the option Printing Preferences to open the window of PDF Printer to set parameters. Please click the tab Finish like the one shown in Figure 1.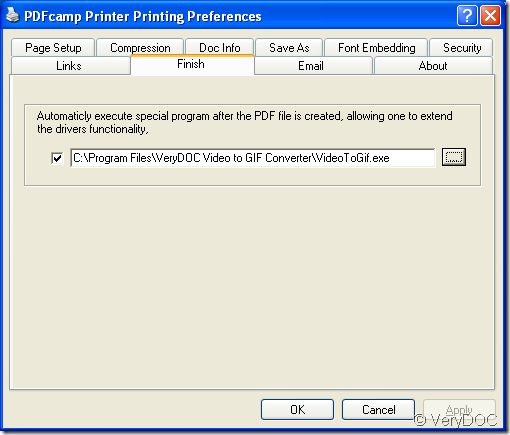 Figure 1
Please check the box
and then you will be able to input the file path for the program to be activated in the edit box. For example, you want to activate the program VeryDOC Video to GIF Converter after the creation, you need to input the executable file path of Video to GIF Converter in the edit box. Or you can click the button
to browse for file path in popup file picker window. Then please click on OK button.
After setting the parameter for PDF Printer, you can start to create PDF document. You can open the printable file and then use the shortcut key Ctrl+ P on your keyboard to open Print window in which you need to choose PDFcamp Printer as current printer and click Print button to create PDF document. We can take Word document as source file example. Please see Figure 2.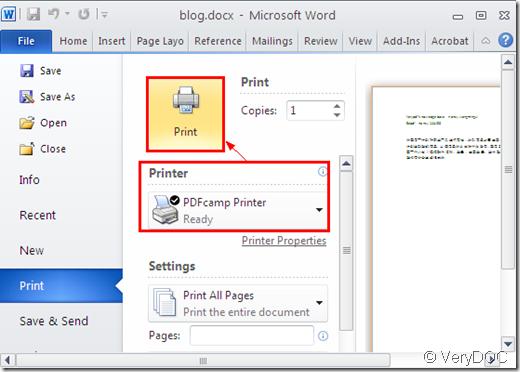 Figure 2
Via clicking here you can enter the homepage of PDF Printer to learn more information about the application. You can also purchase different kinds of licenses on the homepage.
Related Posts