Your question could be understood like this: you need to convert pdf file to word document meanwhile your pdf file is in Simplified Chinese. I know a software can convert pdf file to word document and it supports all kinds of languages. Maybe you can have a try.
This software is VeryDOC PDF to Word Converter v2.0 which was researched by VeryDOC whose products make up a family of file conversion tools, enabling both end users and developers to batch convert content to a number of industry-standard vector, raster and text formats. VeryDOC also offers custom engineering services to tailor a conversion solution to meet customers' unique requirements. They are used by some of the world's finest companies for a wide variety of applications across many industries.
At first you have to download it from this link https://www.verydoc.com/index.html and entered the software interface like figure 1 shows. I have marked the menu list in blue, you can choose it as you needs. After adding your files and choose your options then you can convert it. A few seconds later, you can get a word document, it will bounce to your face and at the status of " opening" like figure 3. Please see the detail operation in figure 2. Drag the file to the blanks and choose your options then convert it.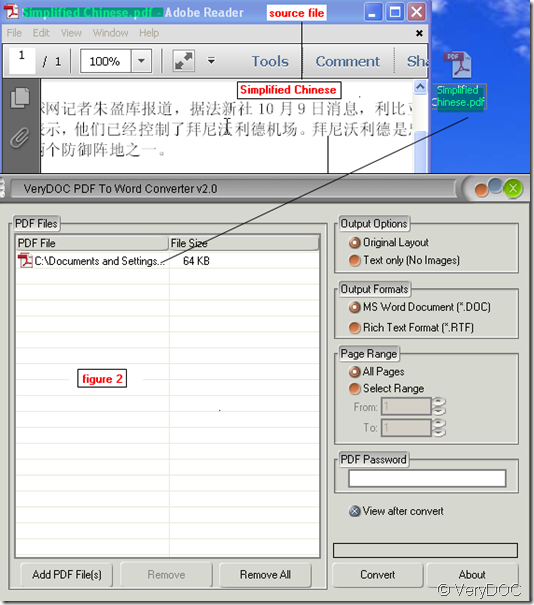 Now maybe you have know how to convert pdf to word document and believe that VeryDOC PDF to Word Converter v2.0 can make it for you.
How do I convert a Simplified Chinese PDF file to Simplified Chinese Word document?

,
Random Posts