Yes, VeryDOC PDF to Word Converter has been designed to accurately convert your PDF files to Word documents. It can retain font types, font size, and font color  in the resulting Word document, which looks exactly as the original. The converter not only changes PDF to Word effectively, but also retains the original fonts very well. With the software, you can get converted Word document which does not need formatting. Further more, you can edit the converted Word document very easily.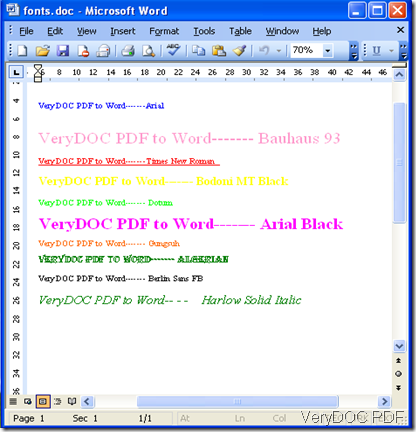 Look at the screenshots above, the first one is the original PDF file, and the second one is the converted Word document. As you can see, with VeryDOC PDF to Word Converter, we can handle the font color, font size and font types very well.
In the following content, I would like to share some tips with you about how to use this software to retain the original format. If you only want to retain the font types, font color and font size, you can select either the "Original Layout" option or the "Text only" option before you start converting the file. If you want to retain more formats like line spacing and text direction, you 'd better select the "Original Layout" option, which has been designed to retain original layout for you.For instance, the following screenshot is the resulting Word document of the "Text only" options. Compared with the second screenshot above which is the resulting document of the "Original Layout" option, the latter does not retain the line spacing.
Random Posts