The standard Italian language has a poetic and literary origin, in another word, it starts from the romantic and beautiful linguistic culture. Now it has been spoken by more than 85 million persons mainly in Europe: Italy, Switzerland, San Marino, Vatican City.In order to learn romantic themes of Italy, we have to learn from its beautiful language.
However, in modern society, Portable Document Format (PDF) is the global standard for capturing and reviewing rich information from almost any application on any computer system and sharing it with virtually anyone, anywhere. More and more files are kept in PDF files. It is known to all that the PDF file is blind to those who do not have the knowledge background, cause we can not do anything to it but seeing by eyes. Then how to make it editable? It not only could be seen but also be touched. Then we can understand and learn Italian by PDF files.
VeryDOC PDF to Word Converter v2.0 can convert the PDF file to word directly. Meanwhile it supports Italian. Then please allow me to show the way of using this software.
Downloading it here:https://www.verydoc.com/pdf-to-word.html If you want to experience this software, please click the "Free Download".If you want to get the full version and use it, please click "Buy Now".
When you download this software successfully, you will enter this interface.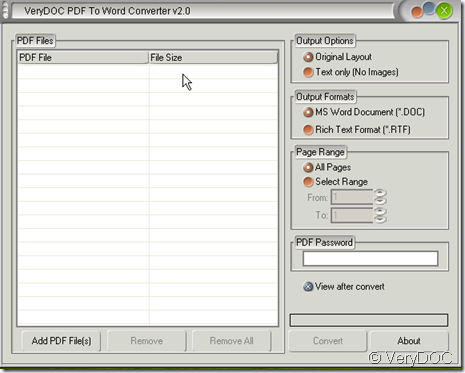 Please see this interface carefully, then you will know how to use it. Cause it is so easy to handle.
Take a PDF file in Italian for example named it as "Italian.pdf".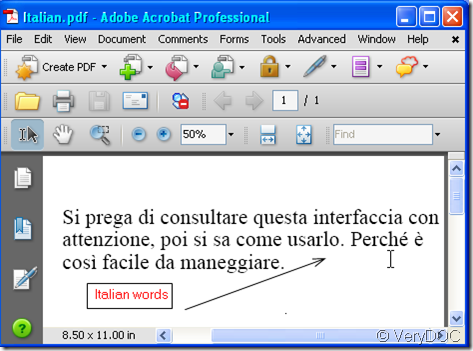 "Convert" it and save it as the new word document.
The new word document will bounce to the screen in a few seconds automatically.The Italian words are kept well in the converted word document.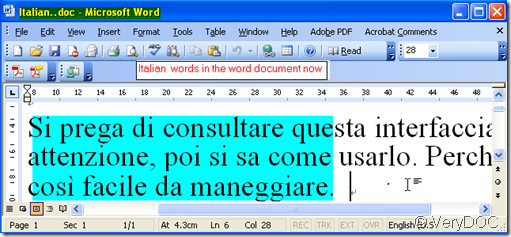 Random Posts