I export images of PDF files into MS word document depending on one software-VeryDOC PDF to Word Converter v2.0
We can not deny that PDF file is portable and advantageous for using but unlike other textual formats, PDF files aren't that so easy to edit. Say you are a designer,collecting all kinds of images is your job. When you meet a quite lovely one in PDF file, extracting it from source file is unreachable. So another available option – converting a PDF to a Word document – extracting it from word is so easy. However, the task is not as easy as it may seem because of numerous in-depth differences between PDF format and Word or RTF files. That is why PDF to Word Converter was developed.
VeryDOC PDF to Word Converter v2.0 is a solid converter to convert PDF file to doc (rtf) file readable by Microsoft office or Open Office. Then let's see how to use it to export images.
Have a visit its homepage and download it here:https://www.verydoc.com/pdf-to-word.html Reading the usage and introduction of PDF to Word Converter will be helpful for your future use. Downloading the trial version is available or get a full version by buying it.https://www.regnow.com/checkout/cart/view
Take "Example.pdf" for example to show you the detail operation. "Example.pdf" has a beautiful pictures in it, I will extract it to word document.
You simply drag a desired PDF file to program's window or click the "Add PDF File"button to add files. I will drag "Example.pdf" to PDF to Word Converter, like picture shows.
No unnecessary configuration and no hundreds of options for you to choose.It only has two options. They are about the output content and formats. This software is a little intelligentialized. It could arrange most of the details of the PDF file automatically. It was customized according to most of the customers request.
You can decide the converted page range PDF file from Pn to Pm. Such as you want to convert from P3-P7, please choose like this:
The last step. "Convert" it and name the new word document.
A few seconds later, the word document with the same content as PDF file bounce to the screen in the open status. Suddenly, if you find you convert the wrong file, click the "Stop" button.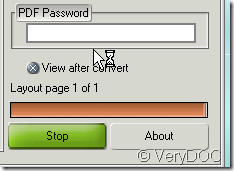 A PDF to Word conversion task with PDF to Word Converter can be a way easier than you thought. Download a free trial and evaluate it yourself. Moreover, we are so sure that PDF to MS Word makes you life easier! Just try it, if you won't like it.
Can I export images of PDF files into MS Word document?

,
Related Posts