This article aims to show you how to convert web page to PDF and sat PDF page size with VeryDOC HTML Converter in one time.
What is PDF?
PDF format is a cross-platform document created by Adobe Acrobat or a program with the Acrobat plug-in. PDF files could be commonly used for e-mail attachments or for saving publications in a standard format for viewing on multiple computers. PDF files are usually created from another document instead of from scratch. PDF files can be edited with Adobe Acrobat, a commercial program. PDF files can be opened and viewed using the free Adobe Reader or the Adobe Reader plug-in, which is available for most Web browsers. PDF files could preserve fonts and formatting electronically across multiple platforms and appear the same on the screen as they will when printed on paper.
Details to set PDF page size during converting web page file to PDF file:
1. Install VeryDOC HTML Converter
Please download installer of this software firstly into your computer, then double click this installer and follow setup wizard step by step so that trial version of VeryDOC HTML Converter could be installed successfully in your computer.
2. Add PDF web page files for conversion
Please run VeryDOC HTML Converter in your computer firstly, then its GUI interface could be opened directly, where you need to add source web page files:
Click Add File(s) on GUI interface > select web page files in pop dialog box > click Open directly, finally, local web page files could be added into processing table directly as follows: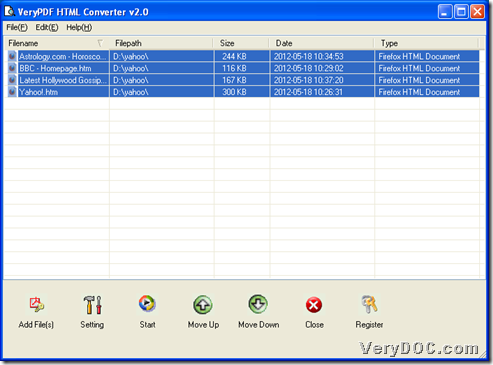 Of course, this software also allow you to convert URL to PDF:
Click File on toolbar > select Add URL on pop list, then type web page address in pop edit box and click OK there so that it could be added into processing form, too.
3. Set targeting format and edit PDF page size during conversion
After adding web page files, please click Setting on GUI interface so that its own panel could be opened directly. Then, you need to click tab Base Settings there, then you can set targeting format – PDF and customize PDF page size:
Under Base Settings tab, please click .pdf on pop list of Output Format so that targeting format could be PDF. Then, to edit page size of PDF file, please click Page Size pop list there so that you can select one page size, e.g., A4 (210x297mm).
Finally, when your setting is finished, please click OK there, then they could be saved and you can go back to GUI interface of this software again.
4. Set destination folder and convert web page file to PDF file with specific page size
On GUI interface, please click Start, then a dialog box could be opened on screen, where you can set targeting folder and click Ok, then conversion from web page file to PDF file or URL to PDF file with specific page size could be started, and a few seconds later, your PDF file could be produced into your computer.
After you know how to use VeryDOC HTML Converter to convert web page file to PDF (URL to PDF) and set specific page size, to know more practical articles here, please visit here frequently.
Related Posts