VeryDOC HTML Converter enables you to singly or batch convert EMF/WMF/RTF/web page to PDF flexibly on Windows platforms.
Here are steps to use this software to singly or batch convert EMF/WMF/RTF/web page file to PDF flexibly below:
Step1. Installation
Firstly, you need to download installer of this software from following:
Then, after you download it into your computer, you need to double click it so that you can follow setup wizard step by step till it is successful to install this application in your computer.
Step2. Add files
To add source files for conversion, please run this GUI application in your computer, then click Add File(s) > select right files, e.g., EMF, WMF, RTF, local web page files, etc. > click Open, finally, those selected files could be added as paths in processing form of GUI interface. And here is relevant snapshot about added files GUI interface: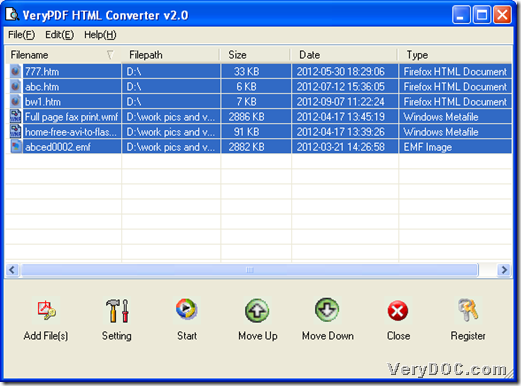 Step3. Set targeting file type and Optionally set PDF properties
After adding source files with GUI interface, please click Setting on GUI interface in order to set targeting format and optionally edit PDF properties:
Click Setting on GUI interface, then, setting panel could pop out, where you need to click tab Base Setting > set output format as .pdf on dropdown list there, so it is finished to edit targeting file type here. Then, if you would like to set options of PDF files here, you can:
Under tab Base Settings, PDF margin, rotation, orientation could be set
Under tab PDF Save Options, PDF saving mode could be selected, including when you combine multiple files into one PDF file, etc. (for this, please read other articles here)
Under tab PDF Info, PDF information, e.g., PDF title, keywords, etc. could be customized as you wish
Under tab PDF Security, PDF passwords and encryption level, modes, etc. could be selected as you expect
And here is snapshot about setting targeting format under tab Base Settings:
When you finish your setting here, please click OK so that all of your operation on this panel could be saved directly and also program will take you back to GUI interface.
Step4. Set targeting folder and convert EMF/WMF/RTF/web page files to PDF files
After you go back to GUI interface, you can set targeting folder and process task:
Click Start on GUI interface, then, program could offer you a dialog box for you to set targeting folder of saving PDF files, and after that, please click Save in that dialog box, then, VeryDOC HTML Converter can start to help you singly or batch convert EMF/WMF/RTF/web page files to PDF files directly, and a few seconds later, this software can add targeting PDF files into destination folder automatically.
Here is snapshot about dialog box for saving PDF files:
Well, by now, my own conversion is finished, and how about yours with trial version of VeryDOC HTML Converter? For more articles about other functions of this software, please visit here frequently for we are always offering you helpful articles here. Thank you for reading this article that is about using VeryDOC HTML Converter to singly or batch convert EMF/WMF/RTF/web page file to PDF files.
Related Posts