The utility VeryDOC PDF Printer allows you to print PDF of specific page size from any printable files through virtual printer in Windows systems of both 32 bits and 64 bits.
Here are download entrances about trial versions of both 32 bits and 64 bits below, where you can get installers:
After you get both of installer from above, you can double click them separately, and follow setup wizard to install them in your different Windows systems of 32 bits and 64 bits for later usage. And cause both of 32 bits and 64 bits versions allows you to do the same operations in realizing different functions, so if you need to know how to fulfill printing PDF of specific page size through virtual printer, just keep reading this article.
Step1. Open Printers and Faxes panel to set specific page size on VeryDOC PDF Printer
As you install this application just now, it could be found in Printers and Faxes panel directly. So firstly open that panel, and then, click this printer with right button of mouse > click Printing References on pop list, and so, its own panel can pop on screen. Then, to set PDF page size, click tab Page Setup, then you can flexibly do the followings to realize setting on page size:
Click one of radios mm, inches and pixel to set page size unit
Click radio Standard > click one of page sizes on pop list to set page size of paper in prescribed sizes
Click radio Custom > type width and height in edit boxes Width and Height so that targeting PDF page size could be customized flexibly
After you have done prepared work for setting PDF page size, please click Ok so that software saves this setting and close this panel directly.
Here is relevant snapshot below: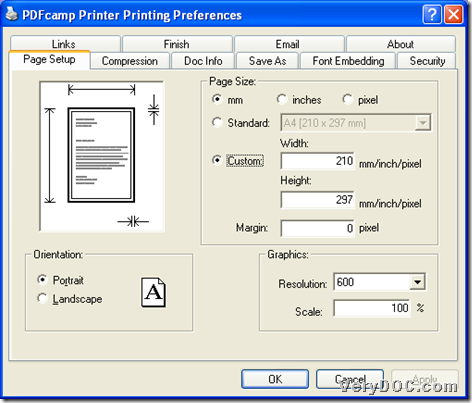 Step2. Print PDF file of specific PDF page size through virtual printer
After basic prepared work as above, here, the following example of printing PDF file from web page helps you understand more about this simple process to realize PDF production from this software:
Open one online web page in your computer
Click hotkey Ctrl + P to open printing panel
Select this application named "PDFcamp Printer" on pop list Printer – Name as virtual printer
Click OK on this Print panel
Here is relevant snapshot below:
When you finish work as above, VeryDOC PDF Printer starts to print PDF, however, firstly you need to select right folder for saving this PDF file in pop dialog box, which is as following snapshot, and after you click Save there, and wait for a few seconds, printed PDF file with specific page size could be produced into your computer with virtual printer effect.
And by now, it is the end of this description about printing PDF of specific page size through virtual printer of VeryDOC PDF Printer.
For any questions, please do not hesitate to drop your comments here. And to know more articles on different functions of this software, just keep visiting here and we will try to help you as much as possible here. At last, for owning this software of both 32 bits and 64 bits for good, please click following icons:
Related Posts