When you use PDF Printer to create PDF document, there is no user interface because the application is a virtual printer. The pro version of PDF Printer—PDF Printer Pro bundles a GUI application which is free of charge inside and it can help you convert any printable document to PDF file intuitively.
VeryDOC PDF Printer Pro is more functional than PDF Printer because it contains all features of PDF Printer, it also supports GUI and command line conversion. The pro version can be called from Visual Basic, Visual C++, Delphi, etc. programming languages as an API. In this article, you will see the way to create PDF with the bundled freeware GUI software.
At first, please click here to download PDF Printer Pro and then install it on your computer. To launch the GUI application, you can open the installation folder of PDF Printer Pro and then double click the executable file BatchtoPDF v1.2. Then you will see the small user interface of the GUI software on your screen like the one in Figure 1.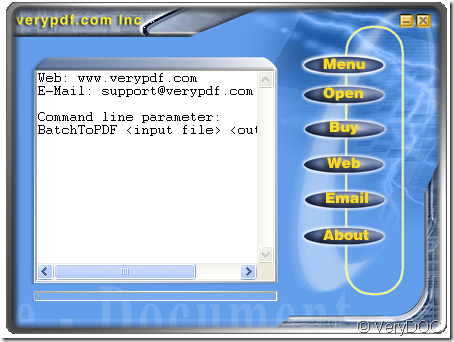 Figure 1
To add document to be created to PDF file, you can click Menu—Open Files or click Open button to open the the file picker window in which you can choose the document that you need. Or you can directly drag the file and drop it into this program because it supports drag and drop operations.
After you add the file, the window for saving target file will automatically pop up and you can specify the output location, name for the target file in this window. Then please click Save button to start to create PDF file.
If you want to browse the target PDF file, you can open the specified location on your computer. So it's the end of creating PDF with GUI software. Do you have any questions about the steps or the program? If so, you can leave your words here and our support team will give you a satisfied answer.
Related Posts