When printing there will be some PDF files with large margins in four directions, so it will be a little waste to print PDF documents with big margins. In this article, I will show you one method of cropping PDF for cutting margins. The software I use is VeryDOC PDF Margin Crop, which either can be used as command line version software or GUI version software. In this article, I will use it as GUI version.
Step 1. Install PDF Margin Crop
Download PDF Margin Crop. This is Windows application, when downloading finishes, there will be an exe file. Please install this software by double clicking the exe file and following installation message till short cut icon showing up on desktop.
When you launch this software, please click the icon. The following snapshot is from the software interface, please have a check.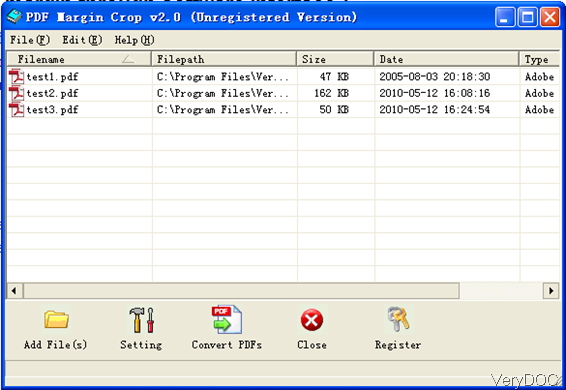 Step 2. Crop PDF for cutting margins.
Please drag PDF files needed cropping from its containing folder to software interface and then added PDF file will be shown in the file list with detail information like file path, file size and added date.
Then do the cropping setting by clicking Setting button. When clicking setting then you will menu options like the following snapshot.
There are three tabs here, the above snapshot is from Basic Options tab. Here you can set saving mode: always ask for output file path, save to original directories with corresponding filenames, and save to following directories.In basic options part, you can set margins cropping size, there are four modes for you to choose. By clicking button Browse, you can choose temporary folder to save output files.
When finishes setting part, please click button OK to back to the main interface.
If you need to set other options for output PDF file, please go to other tabs like View Options tab and Password Setting tab.
In View Options part, you can set view PDF file after cropping. In the Password Setting tab, you can set password to protect output PDF file from being printing, opening and others.
Now let us check the cropping effect from the following snapshot.
Checking from the above snapshot, we can feel the margins have been cut. So this software really can help you when you need to crop PDF margins. Meanwhile this software also can be used as command line version with the same functions. In next article, I will publish article about command line usage. If you need, please pay attention to our knowledge. During the using, if you have any question, please contact us as soon as possible.
Related Posts