This article aims to show you how to convert multiple bitmap files of image to PDF through GUI interface of VeryPDF Image to PDF OCR Converter.
VeryPDF Image to PDF OCR Converter enables conversion from image to editable PDF on Windows platforms. It supports various images, including bitmap and vector image files, to PDF files in specified properties. Most importantly, this application allows you to make editable PDF file from supported image files. So, to know more about this software, just go to its homepage or download trial version to experience it directly:
To convert multiple bitmap images to single PDF, please refer to following steps:
1. Run GUI interface
Double-click software shortcut, and then, GUI interface pops.
2. Add multiple bitmap image
Click File on toolbar > select Add directory on pop list > select source folder containing multiple bitmap images in pop dialog box > click ok, then all bitmap images in this folder could display as paths in processing table of GUI interface, and here is snapshot about GUI interface with added bitmap images: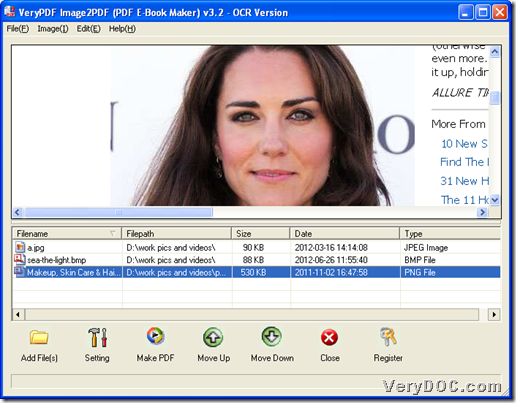 3. Set combination mode
After adding, please click setting on GUI interface > select tab Save Mode, then, you can click radio Combine image files into one PDF file in order to make program know you want to convert multiple bitmap images to single PDF, which is as shown as following snapshot, and then, to save your setting, please click OK there.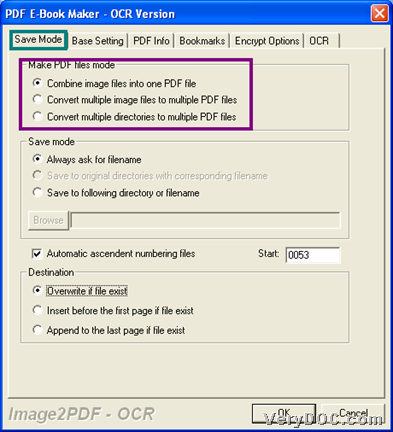 4. Convert multiple bitmap images to single PDF
After you get prepared work done, please click Make PDF on GUI interface, and then, after you select
  and set destination folder in pop dialog box and click save, after a few while, single PDF file can be produced to that folder. 🙂
Here is snapshot of produced single PDF file:
After all description about how to use VeryPDF Image to PDF OCR Converter to convert multiple bitmap images to single PDF, if you interested in full version, please click following icon:
Related Posts