When you create a PDF document, do you want the size of the created PDF to be small so that it is more convenient to save, transfer, store, etc.? If so, the product of VeryDOC—PDF Printer will help you compress PDF to resolve this kind of problem. PDF Printer is a powerful product which is able to print any printable document to PDF file in a short time and it is also an easy-to-use application based on Windows system.
To use PDF Printer, please click here to download it and then install it on your computer. There are two versions of PDF Printer—32-bit and 64-bit. You can choose any one of them according to your needs. In fact, PDF Printer acts as a virtual printer and the setup wizard to remind you whether to set this printer as your default printer. If you need to create PDF document usually, you are recommended to set it as the default printer.
When the installation is over, you will see the printer locate in Printers and Faxes folder. Please find the printer and right click it, click the option Printing Preferences in the floating item to set parameters for the printer. Please see Figure 1. When you can see the popup window, please click Compression tab and then you will see the tab like the one shown in Figure 2.
Figure 1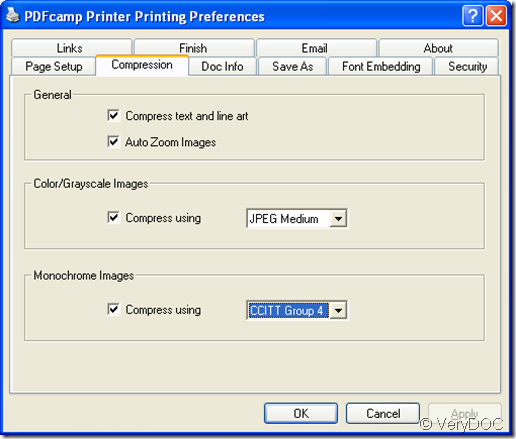 Figure 2
In this tab, there are three group boxes in which you can compress image or compress text for created PDF document. PDF printer supplies several kinds of compressing methods for you to compress PDF like JPEG Medium, CCITT Group 4, ZIP, etc. After you set parameters, please click OK button. When you create PDF document, you just need to right click the document and click Print option in the popup floating item to create and compress PDF automatically.
You can also open the document you want to print at first and then use the shortcut key Ctrl+ P to open the printer window and choose PDF Printer as current printer. Then click Printer Properties to open the window like the one shown in Figure 2 and do the same work illustrated above.
With these two kinds of ways, you can easily compress PDF file to a smaller size. If you want to know all information about PDF Printer, please click here to enter the product homepage. If you have any questions, please contact the our support team.
Related Posts