Hi
We have installed your PowerPoint to flash software on our server and when we try to convert a ppt to flash we get the following error, the output directory contains almost all the files. It seems to crash after creating all the slides but fails to create the master slide.
======================
Please download the latest version of PDF to Flash Converter from our website to try again, the latest version may work better for you.
VeryDOC
=======================
I tried downloading the latest version and tried again, but I get the same error.
I've attached to PPT we are using, but it also fails with your sample files. It seems to process each slide then fail at the end
We can convert the attached file on our old server which we are trying to replace.
The orderID I believe is XXXXXXXXXXXXXX
Thanks for your help.
=============================
What version of MS PowerPoint are you using? I'm using MS PowerPoint 2010, I can convert this PPT file to Flash file without any problem, please look at the converted SWF file in attachment.
VeryDOC
=============================
Hi
Also when I run your test script (see below), it processes each slide and then crashes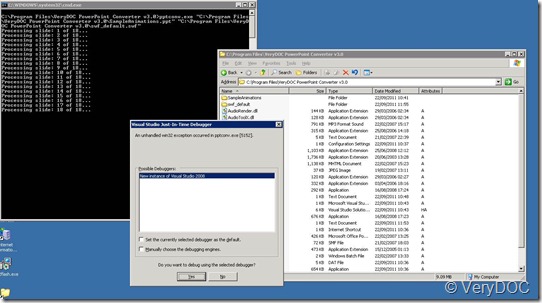 Thanks
==================================
We have added a new function into the new version of pptconv.exe, please download the new version of pptconv.exe from following URL,
XXXXXXXXXXXXXXXXXX
please use new version of pptconv.exe to overwrite old version first, then you can use "-mergeall 0" to not merge all slides into single SWF file, for example,
"C:\Program Files\VeryDOC PowerPoint Converter v3.1\pptconv.exe" -mergeall 0 D:\temp\ppt\CPSR.ppt C:\test\CPSR.swf
VeryDOC
==================================
Hi
Thanks, this now runs and creates each slide without crashing but doesn't leave me with a master slide. How can we merge all the slides into one so that it will play from start to finish like it did on your old version.
Thanks for your help.
=============================
The current version of pptconv.exe can't merge all SWF files into one SWF file properly if the file size of these SWF files is too big, we will try to improve this function in the next version of pptconv.exe application.
In the meantime, you can load these single slide SWF files from your main SWF file, you can play these SWF files one by one, this will overcome the maximum size limtiation of SWF file.
VeryDOC
Related Posts