Hello,
Can you offer a special version of the pdf-compressor-software where the grade of compression is selectable and where the resulting file size is shown before the compression-process is executed?!
And do you have a pdf-software that makes it possible to increase the contrast of a scanned document because when I scan a document the background of the resulting site is usually (divergent from the original-document; using a HP-Scanner) not really white (as the original-document) it is more likely light grey?!
Best regards,
Customer
--------------------------------------------------------
How do I reduce/compress PDF file size from scanned document
Hi Guys,
I just bought a HP M1217nfw MFP, being a real estate agent, where I have to scan 20 pages per document, and the scan function with 75 dpi and output to a pdf document gives me a file of 14 Mbytes. There is no way i can send this via email. I used to be able to scan 20 pages with the HP Officejet into a much smaller file.
Any help would be appreciated on how i can get small sized scanned files. My alternative is to take back the printer to Staples
Thanks so much for your help
Customer
--------------------------------------------------------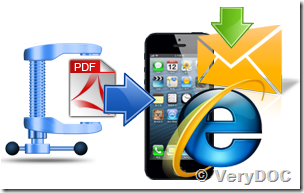 Please download "VeryDOC PDF Compressor Command Line" from following web page to try,
https://www.verydoc.com/pdfcompressor.html
https://www.verydoc.com/url/pdfcompressor.zip
https://www.verydoc.com/pdfcompressor-cmd.html
You can use "VeryDOC PDF Compressor Command Line" to compress PDF files easily by following command lines,
pdfcompressor.exe -ci jpg -cidown -cidownres 50 -gi jpg -gidown -gidownres 50 -mi fax -midown -midownres 50 C:\in.pdf C:\out.pdf
pdfcompressor.exe -jbig2 -jpx C:\in.pdf C:\out.pdf
"VeryDOC PDF Compressor Command Line" does show compression ratio information after conversion, if you encounter any problem with this version, please feel free to let us know.
VeryDOC PDF Compressor does compress PDF file size. VeryDOC PDF Compressor component serves the purpose of optimizing PDF documents specifically in preparation for certain applications such as web-based publication, data exchange or printing.
VeryDOC
How to compress, shrink and reduce PDF files? Reducing PDF file size for Email attachment.

,
Related Posts