Question: The PCL to PDF converter is adding blank pages to my PDF output, how do I prevent this? The PCL file, when sent directly to a printer, does not print any extra pages.
********************************************************************************************
Solution: When you do the conversion from PCL file to PDF by software PCL Converter Command Line, please add parameter "-noempty", like pcltool.exe -noempty -append 1 C:\in.pcl C:\out.pdf then this matter can be settled.
Above I have showed is helpful for our old customers, if you are a newbie here, I guess it is necessary to talk more about it. So in the following part, I will show the detail steps for converting PCL to PDF without no blank page in the output.
First, download PCL Converter Command Line to your computer. Please do not be surprised when you find it is not a zip file instead it is a exe file like GUI version software. As this software either can be used as GUI version or can be called from the MS Dos Windows. When you download it successfully, there will be an icon on the desktop.
Second, please go the containing folder and input the full path of this software in the MS Dos Windows. Check usage carefully on this usage and parameter introduction page. Then it will not be hard to execute the command line correctly.
Third, as we need to remove the blank pages in the output, the parameter "-noempty" is necessary. Removing the blank page during the printing, for one thing, it can save more paper and time, for other thing, it also can help you simplify the conversion process. This parameter is easy to be ignored but it is helpful especially when you need to do the printing job together with conversion.
-noempty is for deleting empty pages from PDF file
Up to here, maybe you have a rough idea about converting PCL to PDF without outputting blank pages. But I guess if you read more in the article, you will find more astrictive points of this software. Like I said in the first paragraph, this software also can be used as GUI version software. Now let us check more about it from the software interface snapshot. Monitoring folders functions is included.
Let us check its setting options from the following snapshot. By this software, you can add password for PDF, set PDF information, choose the mode of saving PDF file and set the formats for PDF file.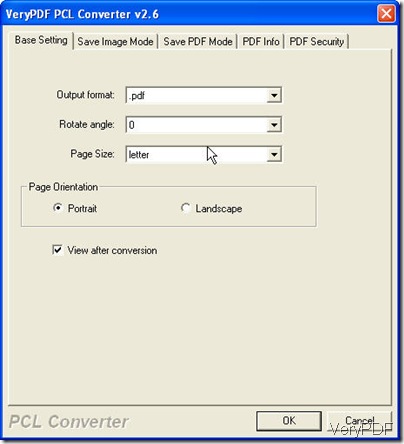 Here I will call an end for PCL files to PDF files conversion. This software was developed by VeryPDF software company whose software are widely used in industry or academic area.
Related Posts