Image to Flash Creator
Shockwave flash is a technology created by Adobe System, which is widely used in online video playing and interactive games. You publish your images in flash video via creating flash movie from your images. The application VeryDOC Image to Flash Creator is specially developed for creating flash movie from image.
The application is free to download via clicking here, and, if you need the unlimited functions of the application, please buy a license for it by clicking here.
The main interface form of the application is displayed in the following screen snapshot. You can see that there is a table of file list in the upper left part of the window form. The file list is for listing the images files waiting for being converted. Buttons under the table, [Add Images], [Remove] and [Remove All] are used to manipulate the items of the file list. Click any item in the list, the corresponding image will be previewed on the right side of the table.
Before creating your flash videos using your selected images in the file list, you may have to set the conversion options. Press [Options] in the main window form to open the dialog "Setting" as portrayed in the next screen snapshot.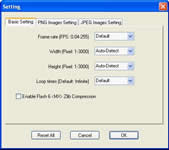 In tab [Basic Setting], you can set the frame rate in FPS, width and height in pixel for the created flash video. "Loop times" is to set the playback loop times. Tabs [PNG Image Setting] and [JPEG Image Setting] are for settings of creating flash from PNG and JPEG images, respectively. After setting those options, press [OK] to save the settings and exit to the main window form of the application.
In the main window form, press button [Convert], and then flash videos are created from your selected images.
Features of Image to Flash Creator:
All Windows platform supported – it supports to run in 32-bit and 64-bit Windows 98/ME/NT/2000/XP/Vista/2008/7 systems. Create flash movies from GIF animations.
Support various source formats – it supports creating flash video from various image formats, e.g., tiff to swf, tif to swf, jpeg to swf, jpg to swf, bmp to swf, dib to swf, png to swf, mng to swf, gif to swf, tga to swf, pcx to swf, emf to swf, wmf to swf, jpeg2000 to swf, j2k to swf, jp2 to swf, pgx to swf, ras to swf, ppm to swf, pgm to swf, pnm to swf, and pbm to swf.
Support batch process – it can create flash videos from more than one image files in one creation process.
Automatically preview the movies after the creating process.