Convert Animation of GIF to Flash Movie
VeryDOC Image to Flash Converter is designed for converting images to shockwave flash (SWF) images. It can convert any image format to swf, such as png to swf, jpg to swf, gif to swf, etc. This application is able to convert gif animations to flash movies, and this page will provide some descriptions of converting animation of GIF to SWF movie.
The following screen snapshot shows the main interface of the application, where the table in the left part of the form is a file list. The file list lists the gif images waiting for conversion. You can add your GIF files via one of the following methods:
Press button [Add Images] under the table, and then select the gif files in the subsequent dialog of Windows Explorer.
Right click in the area of the file list table, and select the menu item of [Add Image Files].
Drag your files from the Windows Explorer and drop them into the main interface of application.
Click one item in the file list, and then you will see the preview of the gif image on the right side of the table. In this case, the image file is a gif animation. Before converting the animation of GIF to SWF video, you may need to press button [Options] to activate the "Setting" dialog as displayed in the next screen snapshot.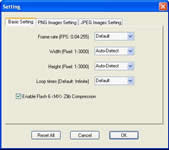 In the tab of [Basic Setting], Option "Frame rate" is to set the frame rate of swf movie in the unit of FPS (Frames per Second). The default value is detected from the frame rate of gif animation. You can leave the options "Width" and "Height" to "Auto-Detect" and the height and width of the SWF movie are then the same with those of the gif image. "Loop times" is to set the loop times of playback, and the default value is "Infinite". "Enable Flash 6" will compress the SWF file to a smaller size. Press [OK] to save the setting and exit to the main interface of the application.
In the main interface, press button [Convert] to start the conversion, and then your gif animation is converted SWF movie by VeryDOC Image to Flash Converter. The last screen snapshot is the play effect of the converted SWF movie.