Flash to BMP Converter
BMP, bitmap, is an image format broadly used in digital image storing and processing. Shockwave Flash (SWF) is a widely used technology used for playing video or providing interactive service. You can convert your SWF videos to BMP images using this application VeryDOC Flash to BMP Converter.
You can download the program here for a free trial. If you need the full function without any limitation, please buy a license for it here. The main interface form is designed like that presented in the following screen snapshot. You can see that there is table in the upper right corner of the form. The table is a file list which lists those SWF files waiting for conversion. Click on any item of the file list, and you can see the video preview of the corresponding SWF file on the left side of the table. You can manipulate the items of the file list using the buttons under the preview area.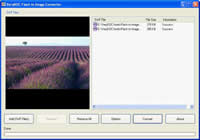 Press button [Options] and activate the dialog of "Options" to set the parameters of the conversion. The dialog is presented in the next screen snapshot. In group box "Basic Setting" , choose "bmp" in drop down list "Convert Format" as the target image format. In the group box of "Special Effect" , there are several image effects for adding to the converted image. "Swirl" is to swirl the pixel around the center of the image, which means to create a pixel vortex around the center of the converted BMP image. The number input into the text box must be within the range from -50 000 to +50 000. The larger number means to create more intense vortex. Press [OK] in the dialog to save the parameters and exit to the main form of the program.
In the main form of the program, press [Convert], and your SWF videos are converted to BMP images by Flash to BMP Converter. The last figure is an example BMP image converted from SWF using the option "Swirl" .
Features of Flash to BMP Converter:
All Windows platform supported – it can run in 32-bit and 64-bit Windows ME/NT/2000/XP/Vista/2008/7 systems with Adobe Flash Player Plugin installed.
Support batch conversion – it can convert frames of more than one flash videos to BMP images.
Resize the image – it supports to set the size of the converted BMP images.
Rotate the image – it supports to rotate the converted BMP images.
Reverse the image – it supports to reverse the BMP images in vertical or horizontal direction.
Special effect – it supports to add special effects to converted BMP images.
Automatic preview – it can automatically preview the converted BMP images with associated application.