Perhaps you will ask whether the doc file would be disappeared after the conversion of doc to pdf? The answer is no. Not only a doc file can produce countless certain format files, it also can produce many format files successfully. Here I introduce it.
Download DOC to Any Converter software at https://www.verydoc.com/doc2any_sdk.zip, and install it. The converting procedures are showed in the following steps:
Step1:  Open a DOS window.
Step2: Open the software that you have already downloaded and find "doc2any.exe" file and "example.doc"file in it.
you can also found a doc file, here for convenience I use them in the same folder
Step3: drag the icon of "doc2any.exe" into DOS window, after that drag the icon of "example.doc"into DOS window too.
Step4: drag the icon of "example.doc"into DOS window again and correct a little, namely replace doc with pdf
Then press "Enter"key the operation of doc to pdf is over.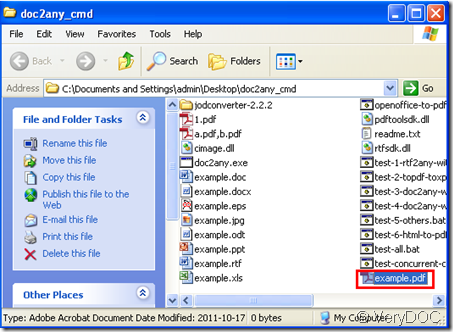 see the result marked by the red rectangle
Repeat the Step2 and Step3, and imitate Step4 that is to substitute jpg for doc or substitute bmp for doc, then you can get the desired format files similarly.
Note: Don't forget to press "Space"key among the three drags.
Related Posts