VeryDOC EMF to XPS Command Line Converter can be used to convert EMF to XPS by command line in batch. Through conversion, we can convert image EMF file to searchable XPS file. And during the conversion, you can specify the height, width, resolution and others of the output XPS file. In the following part, I will show you how to use this software.
Step 1. Download EMF to XPS Converter
This software is command line Windows application which can work under all the Windows system both of 32-bit and 64-bit.
Once downloading finishes, please extract it to some folder then check elements in it and find executable file of em2vec.exe.
Step 2. Know more about XPS and this converter
XPS document format consists of structured XML markup that defines the layout of a document and the visual appearance of each page, along with rendering rules for distributing, archiving, rendering, processing and printing the documents.XPS file is ultimately a final document format ideal for publishing, archiving and transmitting as it is difficult to be edited, shared or viewed unless you have professional XPS software installed.
EMF to XPS Converter can also be used to convert EMF file, WMF file to other file format both of rater and vector like SVG, SWF, XPS, HPGL,BMP, GIF, JPEG, PNG, TGA, PDF and so on so forth.
Step 3. Convert EMF to XPS
When you run this software, please do the conversion according to the usage and examples.
Usage:emf2vec [options] <emf-file> [<out-file>]
When you need to convert emf or wmf to xps, please refer to the following command line template.
emf2vec.exe C:\in.emf C:\out.xps
emf2vec.exe C:\in.wmf C:\out.xps
When you need to do the batch conversion, please write bat file or use wild character.
emf2vec.exe C:\*.emf C:\*.xps
When you meet some WMF file can not be converted properly, please try to add parameter –repairwmf which is really good when you need to repair some special WMF files. emf2vec.exe –repairwmf C:\in.emf C:\out.xps

When input emf file containing some special character, which can not be converted properly, please add parameter –unicode.
-unicode : enable Unicode conversion
Now let us check the conversion effect from the following two snapshots.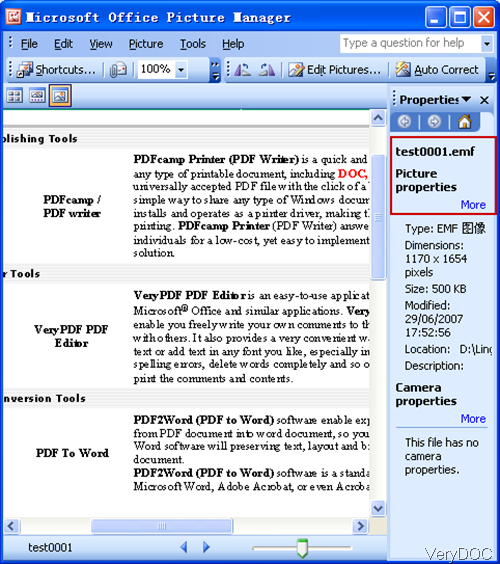 input EMF file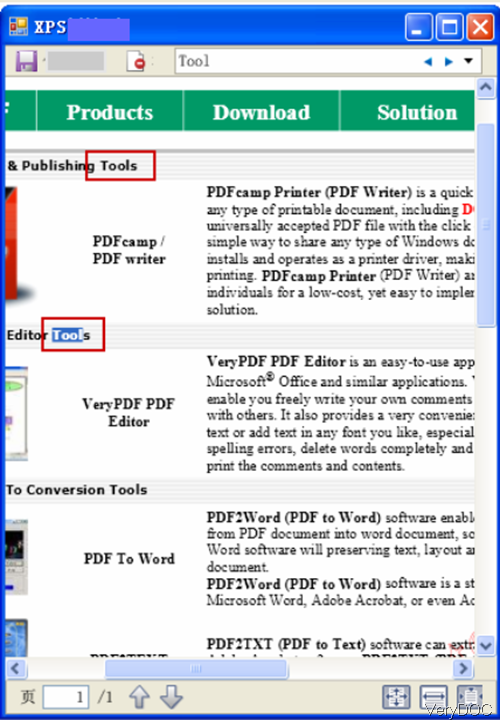 output XPS file
In the output PDF file, you can search content according to your needs. Say when you input search word Tool, all the content with Tool will be shown one by one. So it will be much more easily to check and find information in EMF file. During the conversion, if you encounter any problem, please contact us as soon as possible.
Random Posts