Want to use smart tool to batch convert flash to image of GIF/TIF/PCX/BMP/JPG/TGA/MNG with command line? Then, do not hesitate to read this article here! 🙂
In this article, VeryDOC Flash to Image Converter Command Line is our main processing tool, which is a professional command line tool for Windows users to convert flash file to image files of JPG, TIF, GIF, PCX, BMP, JPG, TGA, MNG, etc.. Besides, this tool supports editing image attributes, e.g., image size, etc.. After basic illustration about this tool, why not have a glance on following picture albums from batch conversion with this tool?
BMP:
JPG:
So, if you want to know more info about this tool and how to batch convert flash files to image files, the following paragraphs would like to tell you more:
First, please feel free to download package of VeryDOC Flash to Image Converter Command Line, and then, extract its content, including executive file "swf2img.exe" into your computer so that you can use it for later process directly. 🙂
Then, open a notepad file on screen, and save this notepad file as targeting BAT format file, and then, input command lines one by one, and for more info, you can refer to following snapshot:
As marked in snapshot above, in pink and green rectangles, there are one command line example respectively, and to know more of example, here is info:
…swf2img.exe is an executive file for running software
….swf is to add source flash file for process
….bmp/jpg is to specify output image file of BMP or JPG, and also file extension can be replaced by other supported image formats, e.g, TIF, PCX, TGA, MNG, GIF, etc.
-width 650 is to set image width as 650 in order to set image size, and this value is adjustable
-height 480 is to set image height as 480 in order to set image size, and this value is adjustable
After you type command lines as above, please save them and close your BAT file, and finally, double-click on icon of BAT file can bring you targeting image files of GIF/JPG/PCX/TIF/BMP/TGA/MNG, etc. after pop windows where process from flash file to image files is shown to you as below.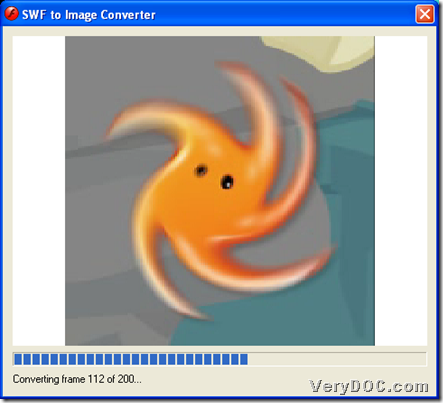 By now, if you have questions on this tool or batch conversion from flash file to image files of GIF/TIF/PCX/BMP/JPG/TGA/MNG, etc., please do not hesitate to leave comments here. And for no-watermark image files, please purchase VeryDOC Flash to Image Converter Command Line. 🙂
Related Posts