Picture Name Editor
Picture Name Editor can be used to edit picture names. It supports you to input a prefix name and a continuous number. If you don't want to edit the names for each image files one by one, just choose Picture Name Editor as your assistant.
The application is free to download and used for evaluation. After evaluating the trial version, you can buy a registration key for the application to get the full function.
You can get some acquaintance of the application from Figure1. The main interface window form of the application is showed in Figure1. In the image file list in the middle of the interface, you can list all the image files by clicking on "Add Image File(s)" button or dragging image files into the list. Buttons "Remove" and "Remove All" are used to remove one or all image files from the table. "Convert" button is for running the application.

Figure1
Please check "Rename" check box under the image file list. Then you should edit the prefix name for output image files in "Prefix" edit box just like "verydoc" and input a number in "Number from" edit box just like "2". If you need to choose the file format for the output files, you can select one in "Output Format" combo box, such as ".bmp". Then click "Convert" button on the right. The "Browse for Folder" dialog box will remind you to specify the location for the output image files. After that, you can click "OK" button to start the process.
Several seconds later, you can get all output image files in new folder, please see the result in Figure2.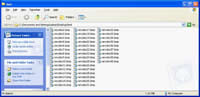 Figure2
Features of Picture Name Editor:
All windows systems, including Windows 2000 and later systems, both 32bit and 64bit systems, XP, Window 7 are Compatible.
Rename images with prefix and continuous numbers in batch.
Resize multiple images with different types in batch.
Sharpen your blurred photos to recover details.
Rotate images with 90 degree, -90 degree, 180 degree in batch.
Stamp images in batch with text that is defined font manually.